Discover more from FWIW
A newsletter tracking digital spending, strategy, and trends in our elections.
Over 17,000 subscribers
Trump runs anti-abortion ads on Facebook
Despite some in the media giving him a pass on the issue, Trump brags online about killing Roe v. Wade
Abortion rights will be one of the defining issues in next year's elections and one that is likely to benefit Democratic candidates up and down the ballot. That's why we were surprised to see Donald Trump's campaign running new ads this week bragging about killing Roe v. Wade and being the "most pro-life President in history."
In this week's FWIW, we'll share more about those ads and put them in the context of how the media has covered the former President's abortion position. But first…
---
By the numbers
FWIW, political advertisers spent just over $8.5 million on Facebook and Instagram ads last week. These were the top ten spenders nationwide:
A group called Ohioans United for Reproductive Rights (OURR) is running new ads this week across Ohio on Facebook and Instagram. Next month, Ohioans will see Issue 1 on their ballots, which would create "a state constitutional right to make and carry out one's own reproductive decisions," and OURR's ads call on voters to vote yes while sharing some horror stories that have occurred under Ohio's current abortion restrictions.
Meanwhile, ahead of election day in the Old Dominion state, the Republican Party of Virginia is running ads on Facebook and Instagram asking voters to vote early or absentee - get-out-the-vote tactics that the national party has not really emphasized in the past. 
Meanwhile, political campaigns spent $2 million on Google and YouTube ads last week. Here were the top ten spenders nationwide:
Brandon Presley, the Democratic candidate for Governor of Mississippi against incumbent Republican Gov. Tate Reeves, is up with new ads on YouTube. One ad features Republicans praising Presley's conservative positions on abortion (he's against), guns (he's for), and taxes (cut em'). The ad closes with three words: "LET'S GO BRANDON." 
 Polls have consistently shown Reeves with a lead in the Deep South state. 
…and on Snapchat, political campaigns and organizations in the United States have spent around $1.9 million on advertising in 2023. Here are the top ten spenders YTD:
As Election Day approaches, several groups (mostly on the Left) have begun to increase their spending on Snapchat advertising. Organizations like the Voter Formation Project, Priorities USA, and Ohioans United for Reproductive Rights have launched mobilization ads to get young people to vote early or turn out on November 7th. 
---
Your 2024 digital dispatch
FWIW, here's how much money the 2024 presidential candidates have spent on Facebook + Google ads to date (1/1 - 10/7):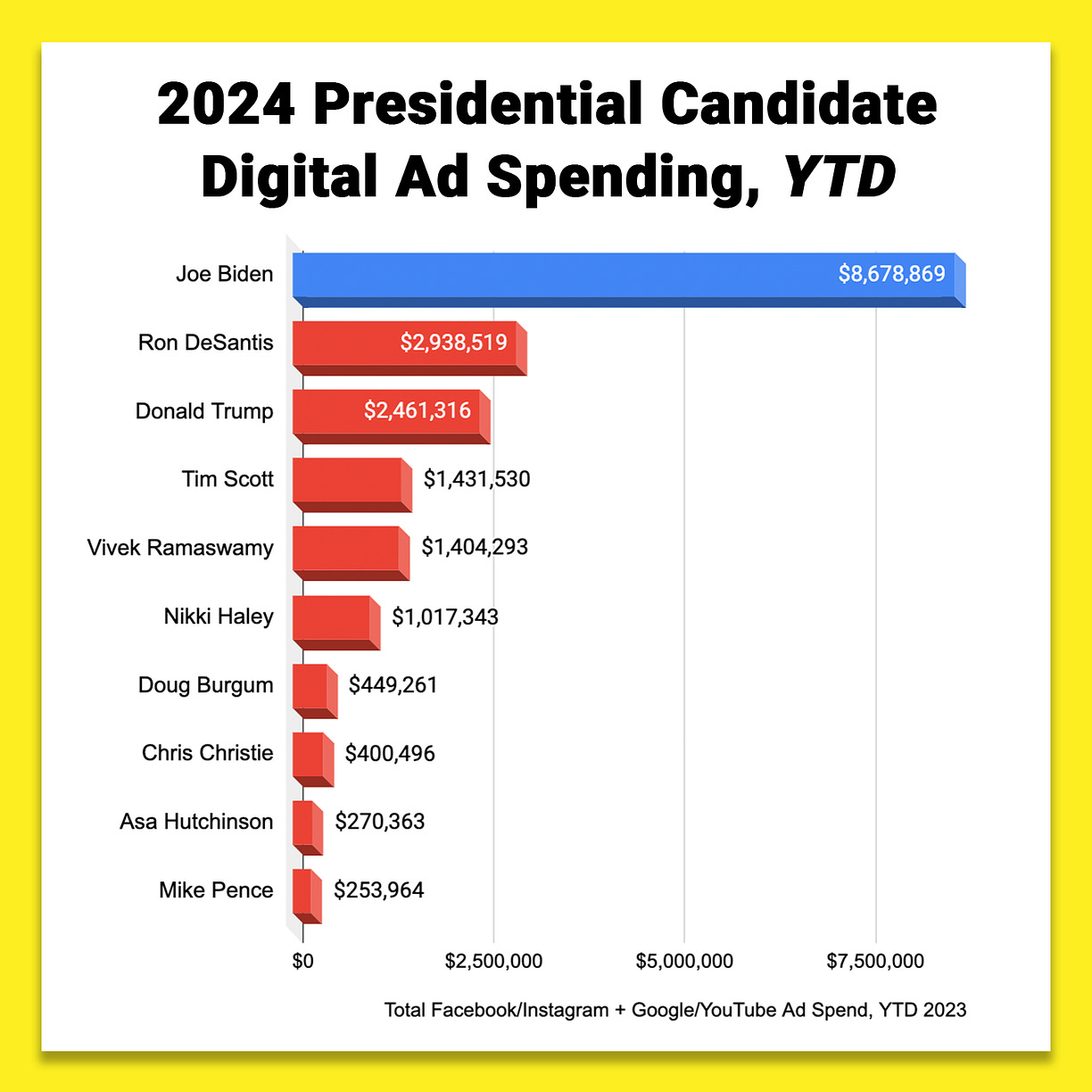 …and here's how weekly digital ad spending compares between the Trump and Biden campaigns: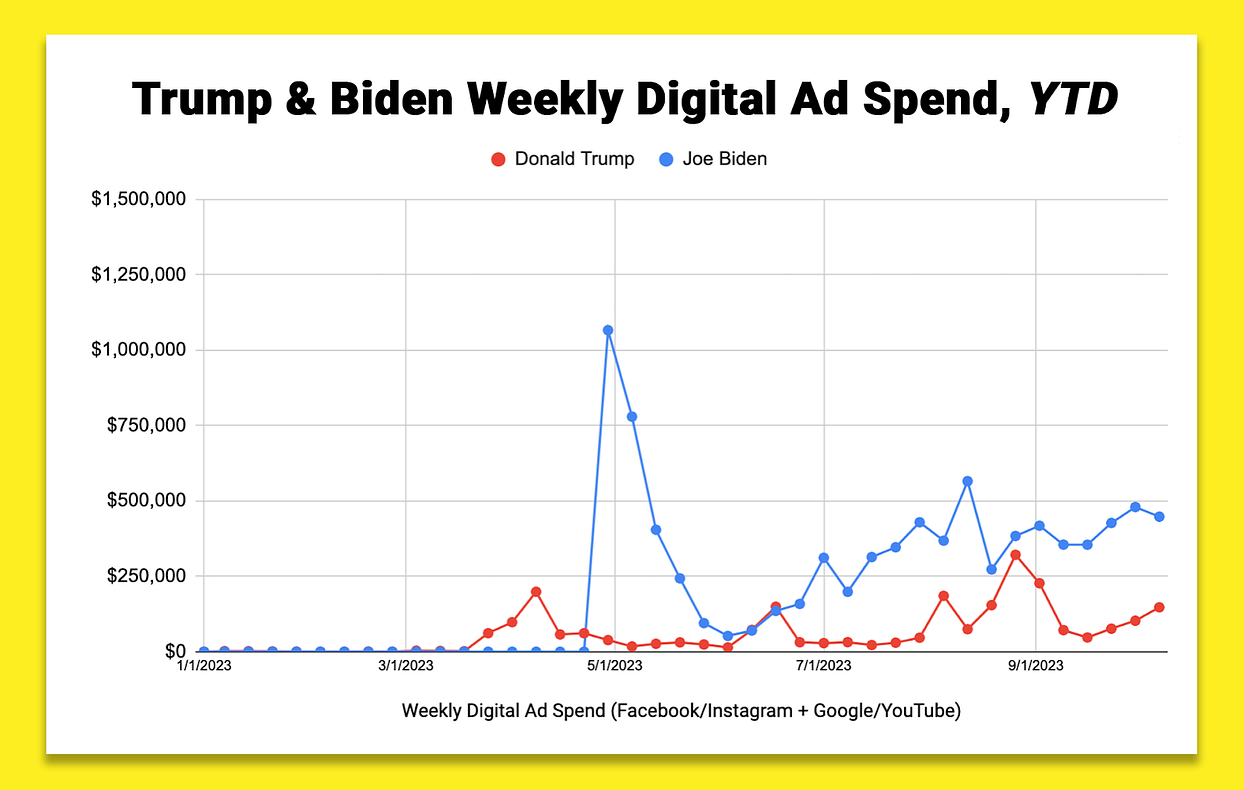 ---
From around the internet:
---
Trump runs anti-abortion ads on Facebook
Last month, ahead of Kristen Welker's rough interview with Donald Trump, NBC News teased clips from the sit-down with an article titled: "TRUMP WANTS TO BRING THE COUNTRY TOGETHER ON ABORTION: 'BOTH SIDES ARE GOING TO LIKE ME."
It was a shocking display of media malpractice, glossing over the fact that the former President is singlehandedly responsible for gutting abortion rights in this country. Democrats were incensed that on one of the defining issues of our political era, the mainstream press was giving Donald Trump a pass. It was also a wake-up call to many of us that the legacy press corps may be unprepared to handle another election cycle filled with lies from the former President. 
Online and off, Donald Trump's campaign is not attempting to get "both sides to like him" on the issue of abortion. Instead, he has bragged about "killing" Roe v. Wade and boasted that "without me, there would be no 6 weeks [abortion bans]." Here's one Truth Social post from him in May: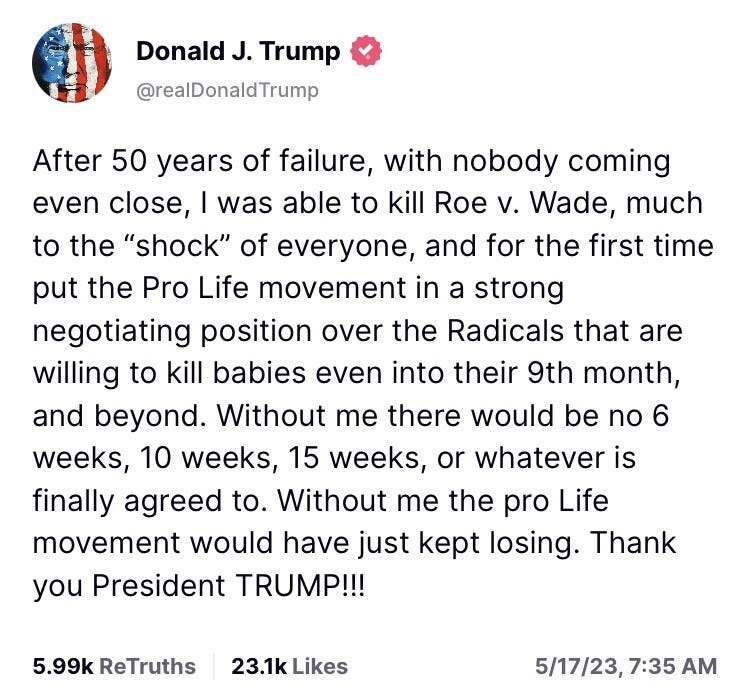 This week, we found more evidence that the Trump campaign has no interest in "moderating" on the issue of abortion. On Monday, his team began running new Facebook video ads targeting voters in Iowa, referring to Trump as "THE MOST Pro-Life President in history."
According to Facebook's Ad Library, Donald J. Trump for President has spent over $6,000 on these ads so far, and we expect that number to increase, as the campaign remains active. This has made him the top spending candidate advertiser on the platform in Iowa this week.
There is ample evidence to suggest from polling, the 2022 midterms, and several special elections this year that the issue of abortion rights is a major political loser for Republicans. Trump's campaign knows that - but as they use the issue to fire up their pro-life base, they also think that there's a chance the mainstream press will give them a pass. 
---
That's it for FWIW this week! This email was sent to 17,105 readers. Help us reach more subscribers by forwarding this week's issue to your colleagues!