Discover more from FWIW
A newsletter tracking digital spending, strategy, and trends in our elections.
Over 17,000 subscribers
Trump revives his UFC strategy
The former President's campaign is embracing the high-testosterone sport to keep his base riled up and in his corner
Last weekend, former President Trump attended UFC 295 at Madison Square Garden in New York, and the appearance was distributed far and wide across the conservative media ecosystem. Trump's relationship with the sport goes back decades, and his campaign is leaning into UFC as a way to engage its base on a cultural level ahead of 2024. 
In this week's FWIW, we'll break down Trump's UFC strategy, plus some big campaign TikTok news and some major fundraising changes that could be coming to Democratic politics. But first…
---
By the numbers
FWIW, political advertisers spent just over $12 million on Facebook and Instagram ads last week. These were the top ten spenders nationwide:
One new and notable ad campaign last week came from a group called Facts for Peace LLC. They spent just under $140,000 on Facebook and Instagram ads running nationwide that share pro-Israel, anti-Hamas content. The group's Facebook page was created on October 14th, and there is very little information about who's behind it - however, Semafor reported several days ago that the nascent effort was the work of a who's who of media and entertainment billionaires.  
Speaking of Israel, members of the progressive "Squad" and their allies are launching a digital defense using Facebook and Instagram ads, as they have become the target of pro-Israel advocates. Rep. Ilhan Omar (D-MN) was the top spending congressional advertiser last week on the platforms, and the Justice Democrats blanketed Facebook and Instagram with ads defending Rep. Rashida Tlaib (D-MI).
Another new campaign came from a group called Clean Energy for America Education Fund. They are running boosted news ads from a Facebook page called "Made By Us News" that tout President Biden's Clean Energy Plan and are targeted at key 2024 battleground states, like Michigan, Georgia, and North Carolina.
Meanwhile, political campaigns spent $2.9 million on Google and YouTube ads last week. Here were the top ten spenders nationwide:
Rep. Abigail Spanberger (D-VA) announced on Monday that she is stepping away from Congress in order to run for Governor in Virginia in 2025. Her campaign immediately started running a handful of digital ads, and here's her announcement video:
On the Presidential Campaign trail, Donald Trump's MAGA Inc Super PAC spent around $75,000 on YouTube ads targeting Iowans last week, attacking both President Biden and Ron DeSantis. 
…and on Snapchat, political campaigns and organizations in the United States have spent around $2.6 million on advertising in 2023. Here are the top ten spenders YTD:
---
Your 2024 digital dispatch
FWIW, here's how much money the 2024 presidential candidates have spent on Facebook + Google ads to date (1/1 - 11/11):
…and here's how weekly digital ad spending compares between the Trump and Biden campaigns: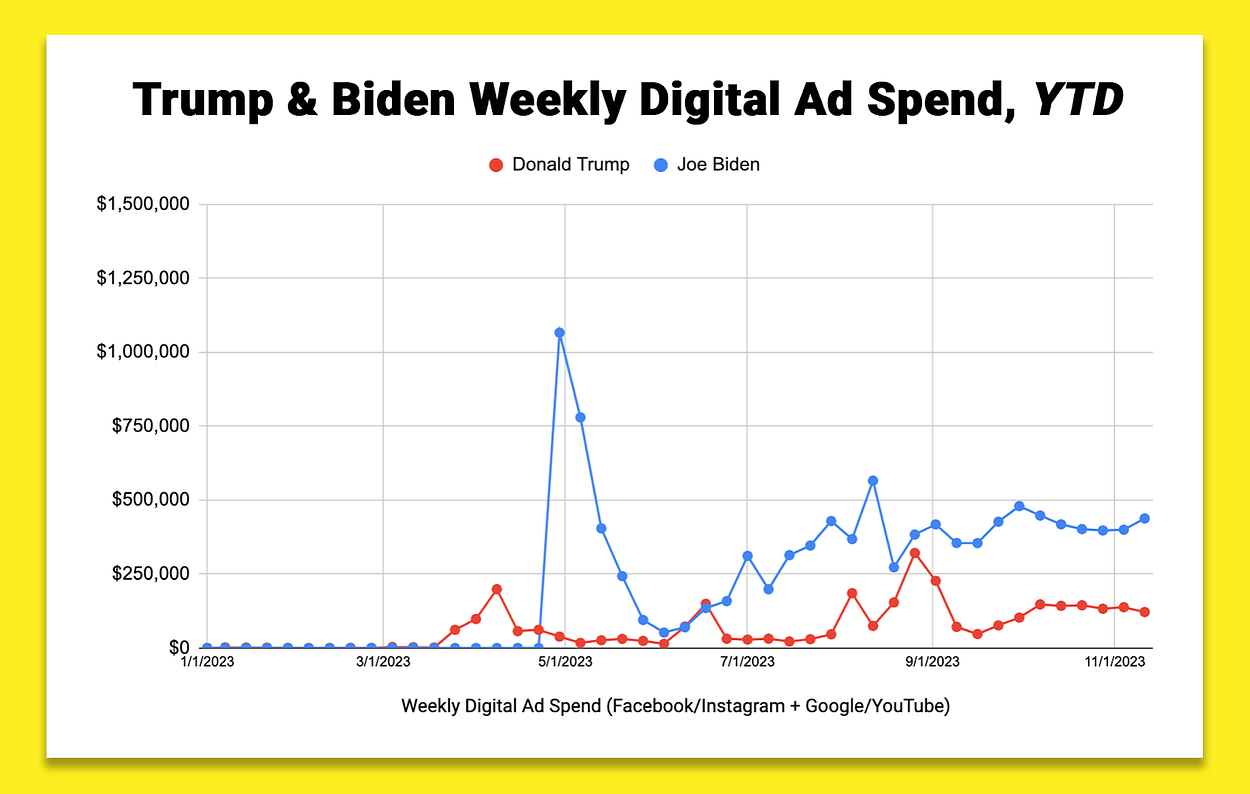 ---
From around the internet:
---
Joe to join TikTok?
AXIOS' Alex Thompson reported this morning that the Biden campaign is privately weighing whether to join TikTok in an attempt to shore up support among younger voters ahead of next year. The White House and the Biden campaign have both acknowledged the serious national security risks associated with using the platform, but they also understand it remains a critical place where Gen Z voters spend their time. 
In fact, a new report from Pew this week shows that the share of TikTok users who get their news on the platform has almost doubled since 2020.
---
Trump revives his UFC strategy
Last weekend, former President Trump attended UFC 295 at Madison Square Garden in New York. The former President was joined by Kid Rock, Tucker Carlson, and various other political allies and aides and entered the arena as "American Bad Ass" blared on loudspeakers. 
Images and video of Trump entering the arena to a hero's welcome were ubiquitous across right-wing social media this week, generating tens of millions of views and interactions, and the former President's campaign was eager to amplify videos and commentary about the appearance on social media. 
This wasn't the President's first fight - it was at least his third UFC event this year, after attending UFC 287 in April and UFC 290 in July. In 2020, Trump taped a message that was played during UFC 249, which took place in the middle of COVID-era lockdown, and has a history with the sport since 2001. Trump has a close relationship with Dana White, UFC's CEO and President, who he reportedly once referred to as "the only essential person in US sports." In turn, White regularly sings Trump's praises and campaigned with him in 2020. 
Karim Zidan at The Guardian has been closely tracking this symbiotic relationship between Trump and sport and recently noted that it "is actually part of a savvy campaign strategy targeting unconventional media platforms that cater to young male audiences with little interest in politics."
With this type of engagement, Trump and his campaign are able to double down on his macho, outsider persona and speak to his base of supporters on a cultural level. If voter disengagement and base mobilization are going to be critical in next year's elections, this isn't a bad strategy for Team Trump to double down on. 
---
That's it for FWIW this week! This email was sent to 17,745 readers. Help us reach more subscribers by forwarding this week's issue to your colleagues!